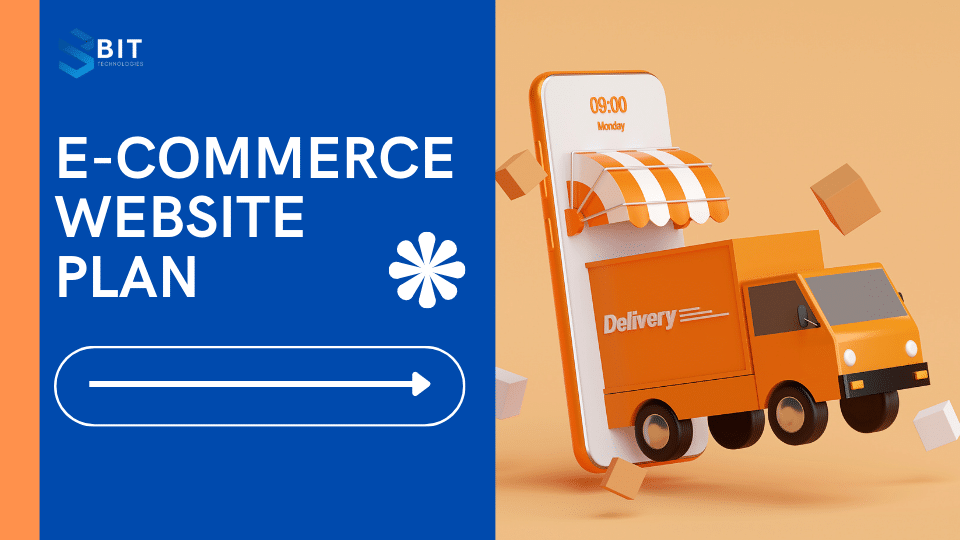 Table of Contents
Introduction
Understanding Ecommerce Website Development
Benefits of Professional Ecommerce Website Development
Key Features of an Effective Ecommerce Website
Types of Ecommerce Websites
Choosing the Right Ecommerce Website Development Company
Our Ecommerce Website Development Services
The Importance of SEO in Ecommerce Website Development
Enhancing User Experience with Responsive Design
Securing Ecommerce Websites: The Importance of Cybersecurity
Mobile Commerce and Ecommerce Website Development
Integrating Payment Gateways for Seamless Transactions
Leveraging Analytics for Data-Driven Decisions
Ecommerce Website Maintenance and Support
Case Studies: Successful Ecommerce Websites
Future Trends in Ecommerce Website Development
1. Introduction – Ecommerce Website Development Company in London
In today's digital age, having a robust online presence is crucial for businesses to thrive. As a leading web-design agency in London, we understand the importance of ecommerce website development in empowering online businesses. In this article, we will explore the significance of ecommerce website development in London and how it can benefit businesses.
We will also delve into the key features of an effective ecommerce website, the different types of ecommerce websites, the significance of choosing the right development company, and the role of SEO in driving online visibility and traffic.
Read more : https://www.designrush.com/agency/it-services/trends/datacenter-proxy-providers
2. Understanding Ecommerce Website Development
Ecommerce website development involves creating, designing, and implementing a website specifically tailored for online businesses. It encompasses various aspects such as user interface (UI) design, backend development, database management, payment gateway integration, and more.
The goal is to create a seamless and secure online shopping experience for customers while enabling businesses to effectively showcase and sell their products or services.
3. Benefits of Professional Ecommerce Website Development
Partnering with a professional ecommerce website development company brings numerous advantages to businesses. Firstly, it ensures a visually appealing and user-friendly website that enhances the overall customer experience.
A well-designed website with intuitive navigation and clear product information builds trust and encourages customers to make purchases. Additionally, professional development enables businesses to leverage advanced features and functionalities, such as inventory management, order tracking, and personalized recommendations, leading to increased customer satisfaction and retention.
4. Key Features of an Effective Ecommerce Website
To succeed in the competitive online marketplace, an ecommerce website must possess certain key features. These include a responsive design that adapts seamlessly to different devices, fast loading times to minimize bounce rates, streamlined checkout processes for hassle-free transactions, and robust security measures to protect sensitive customer information.
Furthermore, features like product search functionality, customer reviews and ratings, and social media integration contribute to a comprehensive and engaging user experience.
5. Types of Ecommerce Websites
When it comes to ecommerce websites, there are different platforms available to choose from. Two popular options are WordPress and Shopify.
a) WordPress:
WordPress is a versatile content management system (CMS) that allows businesses to create customizable ecommerce websites. With the help of plugins like WooCommerce, businesses can easily add ecommerce functionality to their WordPress sites.
WordPress offers a wide range of design options and flexibility for businesses looking to have full control over their website's appearance and functionality.
b) Shopify:
Shopify, on the other hand, is a dedicated ecommerce platform that provides businesses with a complete ecommerce solution. It offers a user-friendly interface, pre-built templates, and a range of features designed specifically for online stores.
Shopify simplifies the process of setting up an ecommerce website and offers various tools for managing inventory, processing payments, and analyzing sales data.
Businesses can choose the platform that best suits their needs and requirements, whether it's the flexibility of WordPress or the simplicity of Shopify.
6. Choosing the Right Ecommerce Website Development Company
Selecting the right ecommerce website development company is paramount to the success of your online business. It is essential to partner with a company that has a proven track record of delivering high-quality websites tailored to specific business needs.
Consider factors such as experience, expertise in ecommerce platforms, portfolio of previous work, client testimonials, and the ability to provide ongoing support and maintenance.
7. Our Ecommerce Website Development Services
At Bit Technologies , we specialize in ecommerce website development in London. With years of experience and a team of skilled professionals, we offer comprehensive services to help businesses establish a strong online presence.
Whether you choose WordPress or Shopify, our services include web design and development, UI/UX optimization, integration of third-party tools and plugins, mobile commerce solutions, payment gateway integration, and ongoing maintenance and support. We work closely with our clients to understand their unique requirements and deliver tailor-made solutions that drive business growth.
8. The Importance of SEO in Ecommerce Website Development
Search Engine Optimization (SEO) plays a critical role in ensuring the visibility and discoverability of ecommerce websites. Optimizing website content, meta tags, product descriptions, and URLs for relevant keywords helps improve search engine rankings and attract organic traffic.
By incorporating SEO best practices during the development process, businesses can increase their online visibility, reach a wider audience, and ultimately drive more sales.
9. Enhancing User Experience with Responsive Design
In today's mobile-dominated world, responsive design is essential for ecommerce websites. A responsive website adapts to different screen sizes, providing an optimal browsing experience for users on smartphones, tablets, and desktops. By delivering a consistent and user-friendly interface across devices, businesses can engage their audience effectively and increase conversions.
10. Securing Ecommerce Websites: The Importance of Cybersecurity
With the increasing frequency of cyber threats, ensuring the security of ecommerce websites is of paramount importance. Implementing robust security measures, such as SSL encryption, secure payment gateways, and regular security audits, protects customer data and builds trust.
By prioritizing cybersecurity, businesses can safeguard their reputation and customer relationships.
11. Mobile Commerce and Ecommerce Website Development
The rise of mobile devices has led to the exponential growth of mobile commerce or m-commerce. Ecommerce website development must cater to the mobile audience by offering seamless mobile experiences through mobile-optimized designs and intuitive interfaces.
Mobile commerce provides businesses with additional opportunities to reach customers, enhance convenience, and drive sales.
12. Integrating Payment Gateways for Seamless Transactions
Streamlining the payment process is crucial for ecommerce websites. Integrating trusted and secure payment gateways enables businesses to accept various payment methods, ensuring convenience for customers and reducing cart abandonment rates.
By offering a wide range of payment options, businesses can cater to diverse customer preferences and increase conversions.
13. Leveraging Analytics for Data-Driven Decisions
Analytics play a pivotal role in optimizing ecommerce websites. By leveraging data from user behavior, traffic sources, and sales trends, businesses can make informed decisions to improve website performance and conversion rates.
Analytics tools provide valuable insights that enable businesses to refine marketing strategies, enhance user experience, and identify areas for improvement.
14. Ecommerce Website Maintenance and Support
Maintaining and supporting an ecommerce website is an ongoing process. Regular updates, bug fixes, security patches, and technical support are essential to ensure the smooth functioning of the website and provide a seamless experience for customers.
Partnering with a development company that offers reliable maintenance and support services is vital to keep your business running smoothly.
15. Case Studies: Successful Ecommerce Websites
To further illustrate the impact of ecommerce website development, let's explore a few case studies of successful online businesses.
We will delve into their unique challenges, the solutions implemented, and the outcomes achieved, showcasing the transformative power of effective ecommerce website development.
16. Future Trends in Ecommerce Website Development
As technology continues to evolve, the future of ecommerce website development holds exciting possibilities. From the integration of artificial intelligence and machine learning to enhance personalization to the utilization of virtual reality for immersive shopping experiences, the landscape of ecommerce is poised for continuous innovation and growth.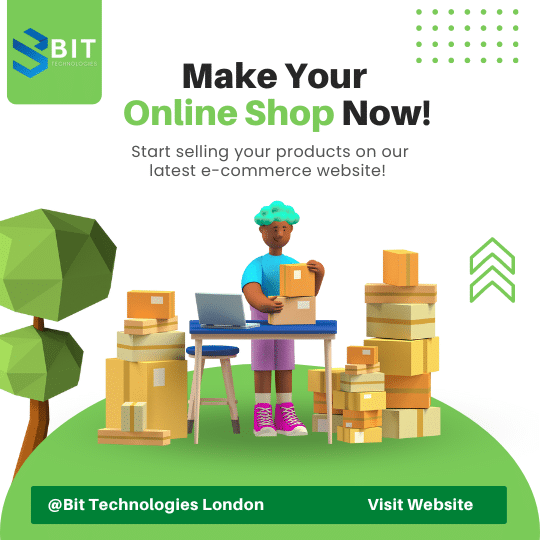 Conclusion
In today's competitive business landscape, having a well-designed and functional ecommerce website is essential for success. It empowers businesses in London to expand their reach, attract customers, and drive online sales.
By partnering with a professional ecommerce website development company like Bit technologies , businesses can unlock their full potential and create a compelling online presence.
FAQs (Frequently Asked Questions)
What is ecommerce website development?
Ecommerce website development involves creating and designing websites specifically tailored for online businesses. It includes features such as product listings, shopping carts, and secure payment gateways to facilitate online transactions.
How long does it take to develop an ecommerce website?
The time required to develop an ecommerce website depends on various factors such as complexity, customization, and the number of features required. It can range from a few weeks to several months.
Can I update my products and inventory on my own with an ecommerce website?
Yes, a well-developed ecommerce website provides an intuitive backend interface that allows you to easily update product information, manage inventory, and track orders without the need for technical expertise.
How can SEO benefit my ecommerce website?
SEO helps improve the visibility and discoverability of your ecommerce website in search engine results. By optimizing your website for relevant keywords, you can attract organic traffic and increase your chances of generating sales.
What ongoing maintenance is required for an ecommerce website?
Regular maintenance is crucial for an ecommerce website to ensure its smooth functioning and security. This includes applying updates, monitoring performance, conducting security audits, and providing technical support to address any issues that may arise.
As a leading ecommerce website development company in London, Bit Technologies is dedicated to empowering businesses with robust and engaging online platforms. Contact us today to discuss how we can help you establish a successful online presence.
Read More : https://bittechnologies.co.uk/unleash-online-potential-professional-web-development-london-uk/
Read More About Our : Web Design & development Service london